Europe is facing a black series of shipwrecks of migrant boats in the Mediterranean. For its part, Australia is cited as an example by some: Canberra boasts that no migrant died at sea in 2014 and 2015, attributing this change to the turn of the migratory screw adopted by the Conservative government of Tony Abbott.
Can we draw inspiration from the Australian example?
"Zero deaths" at sea for 15 months
"No way, you won't be at home in Australia ". The message printed in large red letters on the posters published by the Australian government is intended to discourage applicants for immigration. Political refugee or not, absolutely no one will be admitted to the territory without a visa.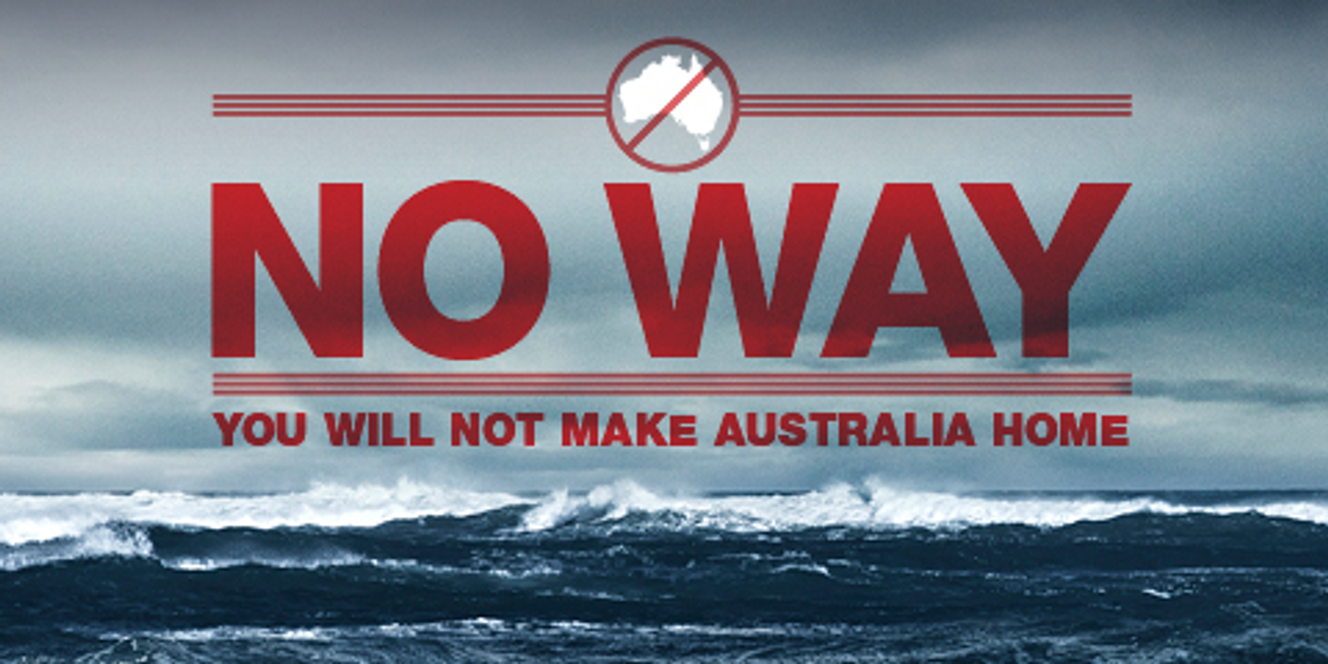 It was the Prime Minister, Tony Abbott, who set up this operation called "Sovereign Borders" when he came to power in September 2013. No more boat people, boats carrying migrants on board – most of them from Sri Lanka, Iran, Iraq, Afghanistan or Vietnam – are now accepted in territorial waters. A very strict policy ensured by the muscular aid of the army, which Australia itself claims as "the toughest ever in terms of border protection ".
A radical method, radical result: zero illegal maritime arrivals recorded on Australian soil in recent months, according to figures published by the government in January, February and March 2015.
After 18 months of the policy, Immigration Minister Peter Dutton compares his record with that of the last 18 months of the previous Labor government: "Only one boat people made it to Australia, all the others failed " whereas "534 illegal boat entries with 35,000 arrivals on board had been previously recorded.
And, above all, the minister underlines that no death at sea has been to be deplored for 15 months. By way of comparison, in June 2013, the previous government's Australian immigration department estimated that around 1,000 people had died in Australian waters since 2001, or about two deaths per month.
But exactly what happens in these waters is difficult to verify: Tony Abbott compares his fight against illegal arrivals to a situation of war and the information concerning the operation is classified " top secret ".
Zero deaths but not zero migrants
If no boat has landed, that does not mean that none have attempted it. Still according to statistics published by the government, 908 boats have been taken out of the borders over the past fifteen months. These counts do not specify how many people were on board each time.
Migrants arrested at sea have the choice between returning to their country of origin or being transferred to an offshore detention center, that is to say outside the territory in partner countries. There, they are held indefinitely while their asylum application file is studied. But even if authorized, they will not set foot on Australian soil. At best they will be allowed to settle in this country " partner ".
Australia has agreements with various territories.
Manus Island in Papua New Guinea is home to a center which was hosting almost 1,000 migrants in March 2015. Created in 2001 under another Conservative government, it was reopened in 2012 after being closed by Labor in 2007. The Prime Minister of Papua New Guinea explained that he accepted this arrangement in return for the granting by Australia of hundreds of millions of dollars intended for infrastructure projects.

The small island of Nauru also agreed to welcome illegal Australian migrants in August 2013 in exchange for financial compensation. It has housed a detention center since 2001, which also reopened in 2012, where there were 718 migrants in March 2015.

After months of negotiation, Cambodia agreed in 2014 that refugees from the island of Nauru could settle on its territory in exchange for a total sum of 40 million dollars (30 million euros). Voluntary refugees could in particular benefit from an allowance for twelve months. This decision has reacted to humanitarian organizations, which believe that Cambodia, one of the poorest countries in Southeast Asia, does not have the necessary capacities to accommodate these thousand refugees.
The number of people recorded in detention centers in Manus and Nauru gives an idea of ​​the waves of migrants arriving in Australia: there were 1,627 in total in September 2013, 1,707 in March 2015 with a peak of 2,453 in March 2014.
Human rights violated
Australia is a signatory to the 1951 United Nations Convention on the Status of Refugees. However, by turning back migrants at its border, it is failing in its obligations and shifting its responsibility to others, believes Amnesty International.
At the end of 2013, Amnesty also denounced the conditions "inhuman in which migrants are detained. Placed in indefinite detention "without case-by-case assessment », alone "55 asylum seekers out of more than a thousand have been able to take steps to apply for refugee status". The living conditions are there. "terrible and humiliating »: overcrowding, verbal and physical violence, sexual abuse, insufficient health and communication services.
The protection of children is not guaranteed either. A 6 year old girl became in September 2014 the face of this hell of the camps. " This system (…) is deliberately aimed at pushing people back to the hopeless situation they fled," denounces Claire Mallinson, national director of Amnesty International Australia.
In a report to be submitted to the UN Human Rights Council, the UN Special Rapporteur on Torture has indeed found that Australia is in breach of the Convention against Torture.
Faced with these attacks, Canberra reacted violently and put forward its desire to put an end to the traffic of smugglers. The Labor opposition, on the other hand, is more silent: while it was still in power in 2012, it had resigned itself to reopening these detention camps used between 2001 and 2007 by the previous Conservative government.
Millions spent
The absence of public information on the exact resources deployed for the operation "Sovereign Borders" makes it difficult to accurately estimate its financial cost, but in any case it is an expensive undertaking.
An Australian think tank estimated in July 2013, even before border protection operations intensified, that the share of the defense budget allocated to them amounted to 262 million dollars per year. The customs budget, which is public, also allows us to get an idea: 342 million have been allocated to border surveillance for 2013-2014.
The communication campaign provided by the government to discourage migrants has exploded its budget: in October 2014, it had already cost 20 million dollars in one year, the budget initially planned for four years.
To this must be added the agreements with the subcontracting countries. In addition to the $40 million agreement signed with Cambodia, Australia made a commitment in July 2013 to bear the costs associated with bringing the centers in Papua up to standard and the movement of migrants.
A policy inapplicable to the European Union
Expensive, probably contrary to human rights and ultimately powerless to provide a long-term response to the flow of migrants who risk their lives crossing the seas, the total closure of borders to illegal immigration is definitely inapplicable. to the European Union.
In addition, no neighboring country to the EU is ready to accept an agreement involving keeping migrants on its territory in return for financial aid, like Papua or Cambodia.